Cape Town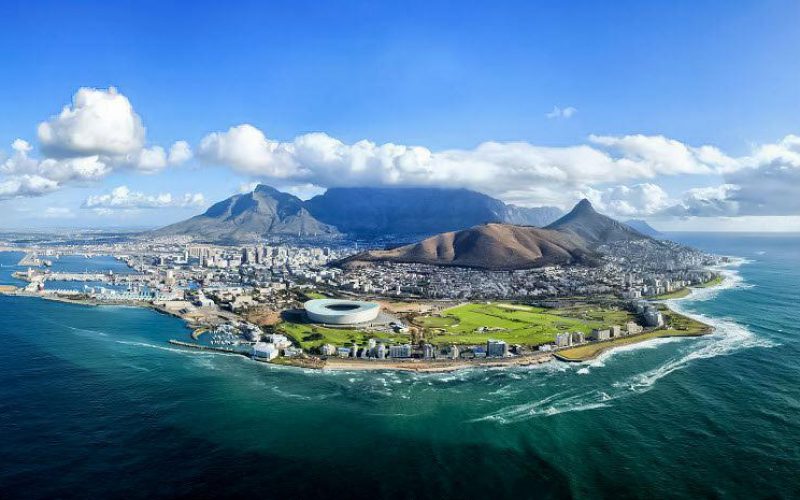 Cape Town is the second most populous city in South Africa and the largest in land area, forming part of the City of Cape Town metropolitan municipality.
Cape Town is famous for its harbor as well as its natural setting in the Cape floral kingdom, including such well-known landmarks as Table Mountain and Cape Point. Cape Town is Africa's most popular destination for tourism.
As of 2007 the city had an estimated population of 3.5 million. Cape Town's land area of 2,455 square kilometers is larger than other South African cities, resulting in a comparatively lower population density of 1,425 inhabitants per square kilometers.
The centre of Cape Town is located at the northern end of the Cape Peninsula. Table Mountain forms a dramatic backdrop to the City Bowl, with its plateau over 1,000 m high; it is surrounded by near-vertical cliffs, Devil's Peak and Lion's Head.
Sometimes a thin strip of cloud forms over the mountain, and owing to its appearance, it is colloquially known as the "tablecloth". The peninsula consists of a dramatic mountainous spine jutting southwards into the Atlantic Ocean, ending at Cape Point. There are over 70 peaks above 1,000 feet (300 m) (the American definition of a mountain) within Cape Town's official city limits. Many of the suburbs of Cape Town are on the large plain of the Cape Flats, which joins the peninsula to the mainland. The Cape Flats lie on what is known as a rising marine plain, consisting mostly of sandy geology which shows that at one point Table Mountain itself was an island
Photos:

http://www.aboutcapetown.com