Kingston upon Thames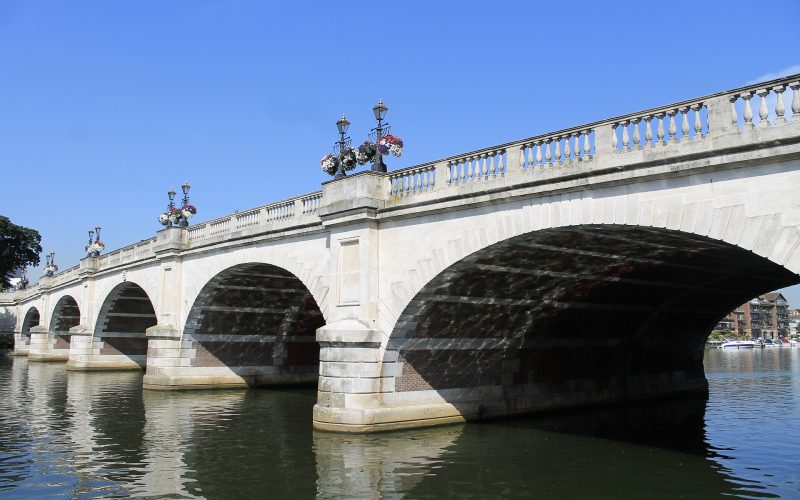 Kingston upon Thames (known locally as Kingston) is a town in Greater London, England, and within the historic county of Surrey. It is situated on the River Thames, about 10 m above sea level and 16 km southwest of Charing Cross (deemed the geographical centre of London). It is notable as the ancient market town in which Saxon kings were crowned and today is the administrative centre of the Royal Borough of Kingston upon Thames.
The large historic parish of Kingston became absorbed in modern times into the Municipal Borough of Kingston-upon-Thames, reformed in 1835 and from 1893 to 2021 was the location of Surrey County Council, extraterritorially in terms of local government administration since 1965, when Kingston became a part of Greater London.
Today, most of the town centre is part of the KT1 postcode area, but some areas north of Kingston railway station are within KT2. The United Kingdom Census 2011 recorded the population of the town (comprising the four wards of Canbury, Grove, Norbiton and Tudor) as 43,013, while the borough overall counted 175,470. Kingston is identified as a metropolitan centre in the London Plan and is today a major retail centre, one of the biggest in the UK, receiving 18 million visitors a year. It is also home to Kingston University.
Central Kingston is a busy, largely pedestrian and predominantly retail centre, with a small number of commercial offices and civic buildings. The shopping centre includes a shopping mall, "The Bentall Centre", containing the Bentalls department store and large branches of chain stores found in many British high streets. There is a large branch of the John Lewis department store group, with a Waitrose supermarket in the basement. A smaller 1960s shopping centre called Eden Walk exists nearby. The Rotunda, in a former Bentalls furniture depository building (a local landmark), includes a bowling alley, fitness centre, a 15-screen Odeon multiplex cinema and a few restaurants. Recent developments along the riverside south of Kingston Bridge have added bars, restaurants and a theatre, the Rose Theatre which opened in 2008 with Sir Peter Hall as the director.
The ancient market is still held daily in the Market Place, including today such produce as fish, jewellery, exotic foods, local foods and flowers.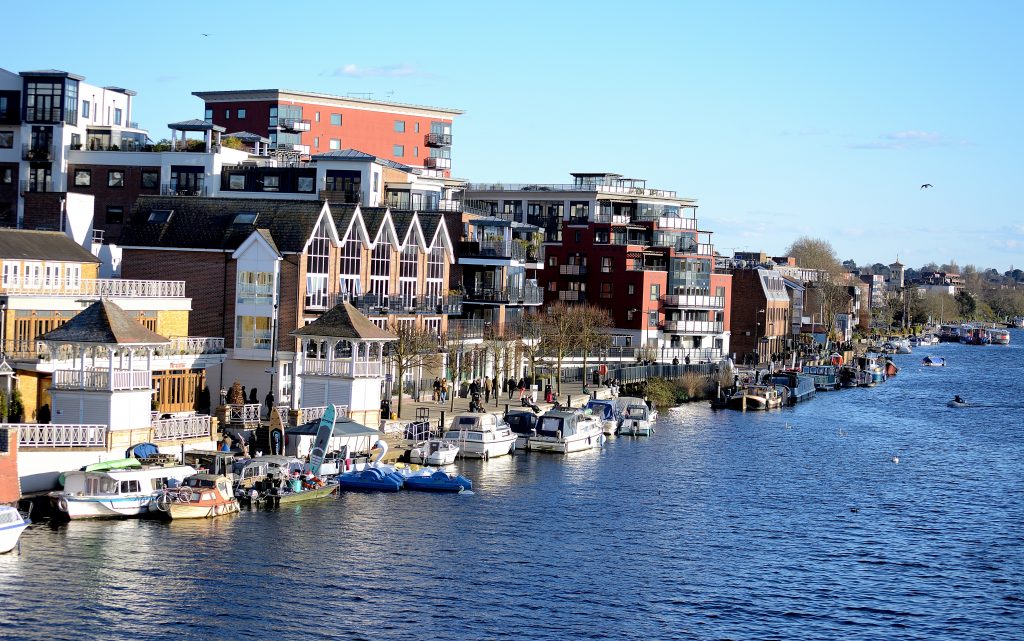 Kingston's civic buildings include Kingston Museum, public library, modern Crown Court and smaller county court and the Guildhall by the part-culverted mouth of the Hogsmill River which houses Kingston Council and magistrates' court. A short distance away is the County Hall Building which houses the main offices of Surrey County Council. From 1893 to 1965, before Kingston became one of the 32 London boroughs of Greater London, it was the county town of Surrey following the period of 1791–1893 when Newington had this role. Guildford has officially reclaimed this ancient, now ceremonial title as Kingston is no longer administered by Surrey.
Kingston's main open space is the River Thames, with its lively frontage of bars and restaurants. Downstream there is a walk through Canbury Gardens towards Teddington Lock. Upstream there is a promenade crossing the Hogsmill river and reaching almost to Surbiton. Eagle Brewery Wharf is a council-owned public space located on the riverside. Across Kingston Bridge is a tree lined river bank fronting the expanse of Hampton Court Park.
Kingston Cleaners – Cinderella Cleaning  & Ironing Services London is an enthusiastic and open-minded team taking pride in providing a personal, high quality level of domestic and commercial cleaning and ironing services in Kingston for each individual client offering a good value for money.
Did you know – facts about Kingston upon Thames
Kingston was part of a large ancient parish in the county of Surrey, reformed in 1835.
It was the ancient market town where Saxon kings were crowned, and the earliest royal borough.
Kingston had many names – it was called Cyninges tun in 838, Chingestune in 1086, Kingeston in 1164, Kyngeston super Tamisiam in 1321 and Kingestowne upon Thames in 1589. The name means 'the king's manor or estate' from the Old English words cyning and tun.
Kingston Green Fair, dedicated to promoting sustainable development, was held annually from 1987 to 2008 in Canbury Gardens, next to the river, on the Spring Bank Holiday.
Fine art is a prominent feature in the borough's history. Both John Hoyland and Jeremy Moon worked from permanent studios in Kingston, and many prominent artists and designers have studied at the university, including Fiona Banner, John Bratby, David Nash and Jasper Morrison.