Richmond, London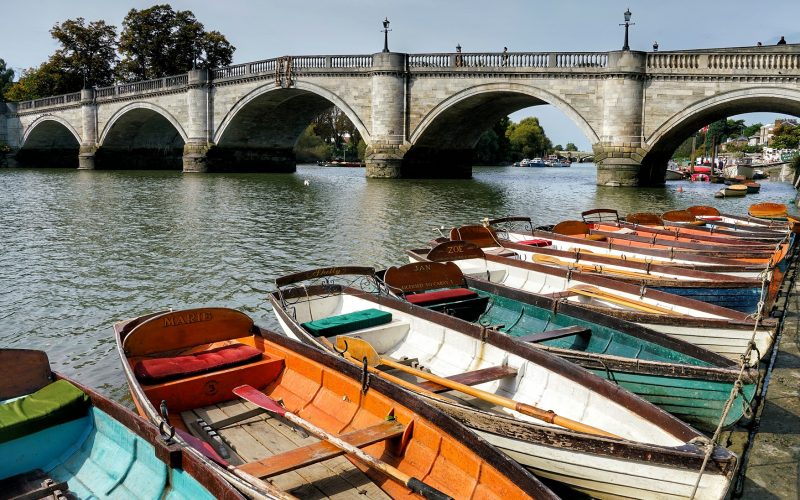 Richmond is a town in south-west London, 13.2 km west-southwest of Charing Cross. It is on the River Thames, with many parks and open spaces, including Richmond Park, and many protected conservation areas. A specific Act of Parliament protects the scenic view of the River Thames from Richmond.
Richmond was founded following Henry VII's building of Richmond Palace in the 16th century, from which the town derives its name. The palace itself was named after Henry's earldom of Richmond, North Yorkshire. During this era, the town and palace were particularly associated with Elizabeth I, who spent her last days there. Richmond Bridge was completed during the 18th century and many Georgian terraces were built, particularly around Richmond Green and on Richmond Hill. These remain well preserved and many have listed building architectural or heritage status. The opening of the railway station in 1846 was a significant event in the absorption of the town into a rapidly expanding London.
Richmond was formerly part of the ancient parish of Kingston upon Thames in the county of Surrey. In 1890, the town became a municipal borough, which was later extended to include Kew, Ham, Petersham and part of Mortlake (North Sheen). The municipal borough was abolished in 1965, when, as a result of local government reorganisation, Richmond was transferred from Surrey to Greater London.
Richmond is now part of the London Borough of Richmond upon Thames. It has a significant commercial and retail centre with a developed day and evening economy. The name Richmond upon Thames is often used, incorrectly, to refer to the town of Richmond: in fact (unlike nearby Kingston upon Thames), the suffix should properly be used only in reference to the London Borough.
The Thames is a major contributor to the interest that Richmond inspires in many people. It has an extensive frontage around Richmond Bridge, containing many bars and restaurants. Richmond Riverside owes much of its neo-Georgian style to the architect Quinlan Terry, who was commissioned to restore the area (1984–87). Within the river itself at this point are the leafy Corporation Island and the two small Flowerpot Islands. The Thames-side walkway provides access to residences, pubs and terraces, and various greens, lanes and footpaths through Richmond. The stretch of the Thames below Richmond Hill is known as Horse Reach and includes Glover's Island. There are towpaths and tracks along both sides of the river, and they are much used by pedestrians, joggers and cyclists. Westminster Passenger Services Association boats, licensed by London River Services, sail daily between Kew and Hampton Court Palace, calling at Richmond in each direction.
The town of Richmond has the largest commercial centre in the borough and is classified a major centre according to the London Plan. Its compact centre has approximately 50,000m2 of retail floor-space and comprises almost exclusively high street chains, the largest of which are Marks & Spencer, Boots, Tesco Metro and Waitrose. A Whole Foods Market with 20,000 ft2 of floor space within a new development opened in 2013.
Mostly independent businesses line the narrow alleyways running off George Street towards Richmond Green and up Richmond Hill, and there is a farmers' market in Heron Square on Saturdays. Richmond has one large stand-alone supermarket, Sainsbury's, with parking for 420 cars to the east of the town, near North Sheen railway station.
A range of convenience shopping, restaurants and cafes can be found on the crest of Richmond Hill lining Friars Stile Road, as well as along Kew Road towards the Botanical Gardens, and on Sheen Road.
Richmond also offers a wide variety of office accommodation and is the UK/European headquarters of several multi-national companies, as well as head office to a number of national, regional and local businesses. Richmond Cleaners offer tailor-made cleaning services.
London's Evening Standard has described Richmond as "the beating heart of London's growing technology industry".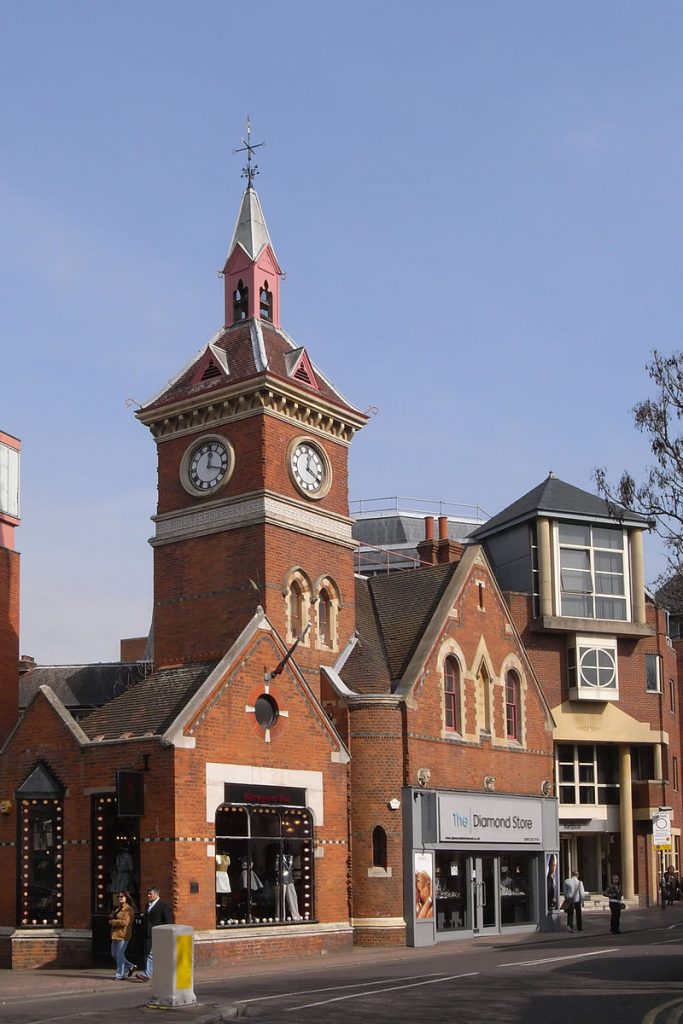 Partway up Richmond Hill is the Poppy Factory, staffed mainly by disabled ex-servicemen and women, which produces the remembrance poppies sold each November for Remembrance Day.
The view from the top westward to Windsor has long been famous, inspiring paintings by masters such as J. M. W. Turner and Sir Joshua Reynolds and also poetry.
Apart from the great rugby stadium at Twickenham and the aircraft landing and taking off from Heathrow, the scene has changed little in two hundred years. The view from Richmond Hill now forms part of the Thames Landscape Strategy which aims to protect and enhance this section of the river corridor into London.
A broad, gravelled walk runs along the crest of the hill and is set back off the road, lined with benches, allowing pedestrians an uninterrupted view across the Thames valley with visitors' information boards describing points of interest. Sloping down to the River Thames are the Terrace Gardens that were laid out in the 1880s and were extended to the river some 40 years later.