Barcelona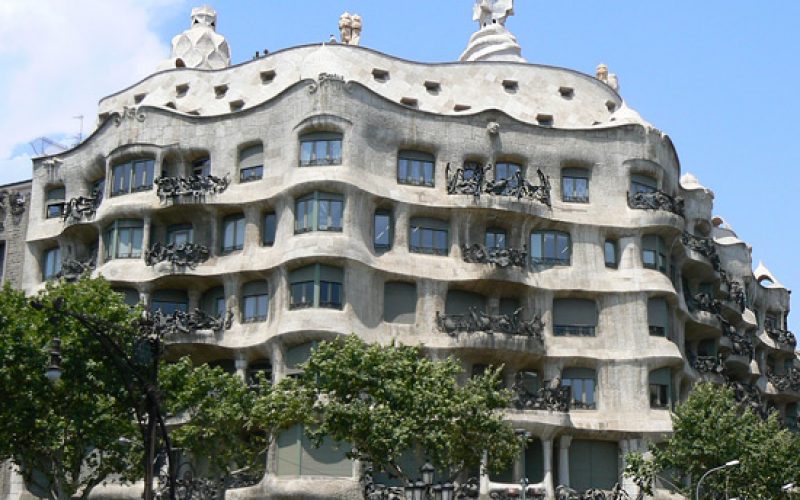 Barcelona is the most populous city of the Autonomous Community of Catalonia and the second largest city in Spain, with a population of 1,615,908 in 2008. Barcelona is located on the northeast coast of the Iberian Peninsula, facing the Mediterranean Sea.
What to see
Las Ramblas (La Rambla) – the most famous boulevard in Barcelona. The street is two kilometres long and right at the heart of the city.
Plaza de Catalunya – a large square in central Barcelona that is generally considered to be both its city centre and the place where the old city and the 19th century-built Eixample meet.
Casa Batlló – a building restored by Antoni Gaudí and Josep Maria Jujol, built in the year 1877 and remodelled in the years 1905–1907. Located at 43, Passeig de Gràcia Blvd. Much of the façade is decorated with a mosaic made of broken ceramic tiles (trencadís) that starts in shades of golden orange moving into greenish blues. The roof is arched and was likened to the back of a dragon or dinosaur.
La Pedrera
Located at 92 Passeig de Gracia Blvd. This is one of the main Antoni Gaudí (the greatest figure of the Art Nouveau movement in Catalonia known as "Modernisme") residential buildings and one of the most imaginative houses of the history of the architecture. Gaudí built La Pedrera for the prominent Milà Family (Pere Milà was an industrialist and his wife was Roser Segimon) between 1906 and 1912.
Barcelona Cathedral (La Seu) – The Barcelona Cathedral uses the Catalan Gothic architecture of the 14th century. The interior is 83m long, 37m wide, and 25m high. There are two bell towers that are covered with Gothic pinnacles. Inside the church there are high Gothic arches. There are many side chapels, but the most interesting is the Capella del Santíssim Sagrament.
The Magic Fountain at Montjuic – Designed by Carles Buigas, who was an engineer and chief of the electromechanical installations section of the International Exhibition in Barcelona in 1929. The Magic Fountain has a show of moving water jets that are illuminated in many different colors and shades. The water jets are synchronized with the music, which is a very big show.
Museums and art galleries
Museu del FC Barcelona
Nou Camp, Avda Arístides Maillol. Access 9, Les Corts
Fundació Joan Miró
Montjuic, Parc Montjüic
Fundació Tàpies
Eixample, C/Aragó 255
Museu d`Història de Catalunya
Barri Gotic, Plaça Pau Vila 3
Museu d'Art Contemporani & Centre de Cultura Contemporàn
El Raval, Plaça del Àngels 1
Museu Nacional d'Art de Catalunya
Montjuic, Palau Nacional, Parc Montjüic
Museu Picasso
Ciutat Vella, C/Montcada 15-23
More about Barcelona
http://www.all-barcelona-guide.com/
http://en.wikipedia.org/wiki/Barcelona
http://www.casabatllo.es