Madrid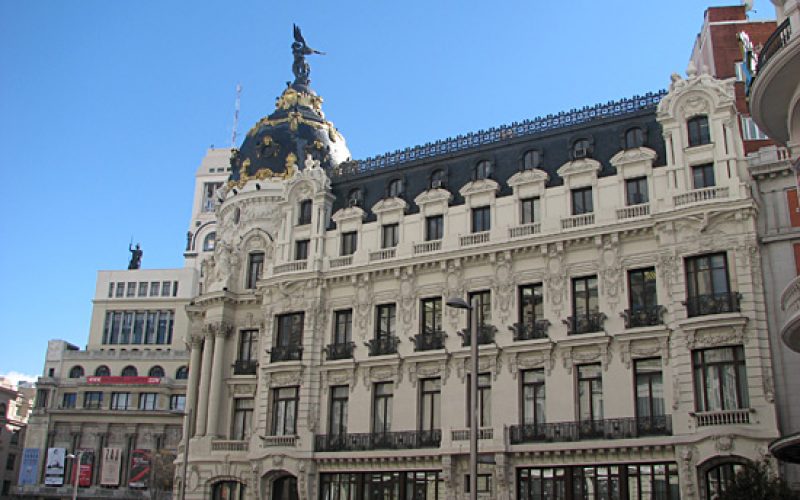 The capital of Spain, located in the heart of the peninsula and right in the center of the Castillian plain 646 meters above sea level, has a population of over three million. A cosmopolitan city, a business center, headquarters for the Public Administration, Government, Spanish Parliament and the home of the Spanish Royal Family, Madrid also plays a major role in both the banking and industrial sectors.
While Madrid possesses a modern infrastructure, it has preserved the look and feel of many of its historic neighbourhoods and streets. Its landmarks include the huge Royal Palace of Madrid, the Teatro Real (Royal theatre) with its restored 1850 Opera House, the Buen Retiro park, founded in 1631, the imposing 19th-century National Library building (founded in 1712) containing some of Spain's historical archives, an archaeological museum, and three superb art museums – Prado Museum, the Museo Nacional Centro de Arte Reina Sofía and the Thyssen-Bornemisza Museum, housed in the renovated Villahermosa Palace.
Places to see
Plaza Mayor – The historic town centre
Cathedral Almudena – one of Madrids newest landmarks having only been officially opened by Pope John Paul II as recently as 1993.
Madrid Royal Palace – Built in 1738 upon the site of the previous castle that was destroyed in an accidental fire the Royal Palace has comanding views over Southern Madrid and the river Manzanares.
Madrid Royal Opera Theatre – One of Madrids oldest buildings the theatre house gave its name to the Maetro station Opera.
Gran Vía
Palacio de Cristal
Museums and art galleries
Museo del Prado (El Prado Museum)
National Archaeological Museum of Spain
Museo Nacional Centro de Arte Reina Sofía
Museo Thyssen-Bornemisza
Museum of the Americas
Royal Academy of Fine Arts of San Fernando
Naval Museum
Casa-Museo José Padilla
Casa-Museo Manuel Benedito
Museo de Antropologia Médica
Museo De La Farmacia Hispana
Museo Del Reloj Grassy
Museo Lazaro Galdiano
Transport
Madrid is served by Barajas International Airport. Terminal 4, designed by Antonio Lamela and Richard Rogers, was inaugurated on February 5, 2006 and is one of the world's largest terminal areas, with an area of 760,000 square meters in two separate terminals.
Serving a population of some four million, the Madrid Metro is one of the most extensive and fastest-growing metro networks in the world.
Madrid photo gallery
More about Madrid
http://www.aboutmadrid.com
http://en.wikipedia.org/wiki/Madrid